Early Detection, signs and symptoms of breast cancer are often not noticeable and this is the reason why medical experts always recommend that women should regularly go for breast cancer check at least once a month, especially those whose family has a history of the disease.  Although, self breast examination is what one can easily do at home to ascertain the signs or even breast screening, self examination for breast for lumps and irregular growth on one's own, it is better to allow an health practitioner examine it.
Breast detection programs are offered to women at virtually all hospitals in Nigeria as the awareness and sensitization of breast cancer goes from state to state. For example, Pink Project Blue initiative is a non-profit organization that offers free breast screening, medical advice and mammography services for women in every state in Nigeria every year.
Check out the warning signs and symptoms of breast cancer below:
Lump in the Breast and Breast pain
Whenever you experience a sharp pain in your breast, it could trigger a pricky feeling mixed with fear that leaves you in doubt whether it is a symptom of cancer or not. If this pain is seldom, you advised to speedily seek medical attention. Has a  breast lump is one of the first signs noticeable in both women and men, it is better that a Diagnostic Mammogram or a MRI scan be carried out to ascertain whether or not it is feasible especially when there is swelling under the armpit. Do note that not all lumps is breast cancer.
Nipple/Breast Colour Changes
This sign usually follows flattening of the breast, accompanied by tenderness or pain in the breast. If a reddish surface is noticed, be aware that the cancer has gotten to an advanced stage and rashes around the nipple which causes itching can be associated with this symptom. Also if any discharge from the breast that is bloody or mucus like is noticed, do contact a medical professional for proper diagnosis and advice.
Causes of Breast Cancer
Breast cancer can be caused by different factors; and while some are genetic, others are caused by our interactions with the environments. These genetic factors are mostly inherited or from genetic imbalance or mutations. Those caused by environmental factors bothers much on what we eat, kind of life-style we keep, stress, medicine such as birth control pills and even the mindset.
Prevention
Prevention as we all know is better than cure and there are ways to detect and prevent breast cancer apart from looking out for early signs. To reduce the risk of breast cancer, we have to live a healthy life style, mind our eating habits and engage in regular exercises like Yoga, Aerobics, keep a positive mind-set, etc.
These are some tips to consider if you want to reduce the risk of having breast cancer:
1. Keeping a healthy weight.
2. Avoid too much dependence on fast foods like junks but eating more of balanced diets, fruits and vegetables
3. Been active in all endeavours, keeping fit, jogging and generally doing exercises.
4. Avoiding smoking and other forms of addiction that impairs the health.
5. Avoiding alcohol since it is a cancer causing substance.
Types of Cancer treatment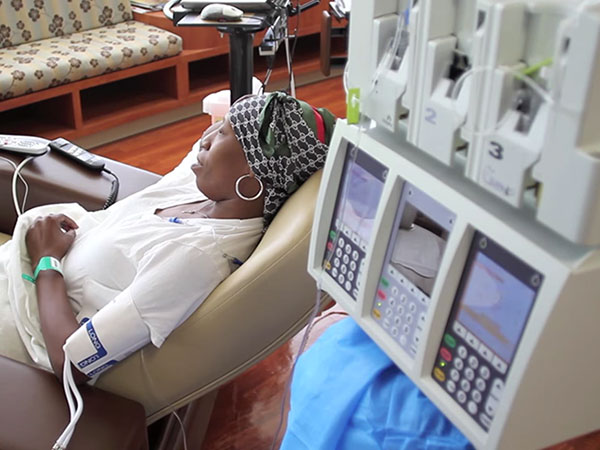 There are many types of cancer treatment one can receive an it all depends on the type of cancer one have and how advanced it is, but he main types of cancer treatment include:
Surgery
When used to treat cancer is a procedure in which a surgeon removes cancer from the body. One needs to know the different ways that surgery is used against cancer and what one can expect before, during, and after surgery.
Radiation Therapy
Is a type of cancer treatment that uses high doses of radiation to kill cancer cells and shrink tumors.
Chemotherapy
Is a type of cancer treatment that uses drugs to kill cancer cells.
Immunotherapy
Immunotherapy is a type of cancer treatment that helps your immune system fight cancer.
Targeted Therapy
Targeted therapy is a type of cancer treatment that targets the changes in cancer cells that help them grow, divide, and spread.
HORMONE THERAPY
Hormone therapy is a treatment that slows or stops the growth of breast and prostate cancers that use hormones to grow.
Stem Cell Transplant
Stem cell transplants are procedures that restore blood-forming stem cells in cancer patients who have had theirs destroyed by very high doses of chemotherapy or radiation therapy. Learn about the types of transplants, side effects that may occur, and how stem cell transplants are used in cancer treatment.
Precision Medicine
Precision medicine is an approach to cancer care that allows doctors to select treatments that are most likely to help patients based on a genetic understanding of their disease.
Some people with cancer will have only one treatment. But most people have a combination of treatments, such as surgery with chemotherapy and/or radiation therapy. When you need treatment for cancer, you have a lot to learn and think about. It is normal to feel overwhelmed and confused. But, talking with your doctor and learning about the types of treatment you may have can help you feel more in control
It should be noted that the treatment of cancer takes a long time and can reoccur despite initial treatment, that is why patients are always monitored. Recurrence is always caused either due to failure of x-ray in detecting a cancerous cell or due to a swelling in the arm or breast area. The symptoms of a recurrence are likewise the same as the systems to the first breast cancer.